Trends to Watch
[Ocean – LATAM Northbound] ONE has introduced their new service, the FLX service, which will call at: Callao – Paita – Guayaquil – Cartagena – Port Everglades – Puerto Cortes – Cartagena.
[Ocean – TPEB] Carriers continue blank sailing programs as import volumes remain uncertain. This could put a space crunch into the market as we approach Golden Week.
[Ocean – ISC>N. America] Operations have normalized across ports in northwestern India. Overall demand is down YoY in terms of the value of goods shipped. Volume in terms of TEU down ~14% Jan – July YoY. Watch for blank sailings in September due to lower demand from India to southeast U.S. ports such as Savannah, Charleston, and Norfolk.
[Regional – LATAM] Brazil exports are on the rise and GRIs are being implemented by all major ocean carriers. We expect volume to continue increasing into Q4 and recommend booking 4+ weeks ahead of sailing.
[Regional – U.S.] Rain in the US Southwest continues to impact rail and road traffic. Shipments moving from California ports into the Southwest and Texas can expect to see 2-3 day delays in transit times. We are keeping an eye on Tropical Storm Lee which formed in the Atlantic and is forecast to become a major Hurricane. Earliest impacts to shipping would be the end of next week.
[Air – Mode update] Air cargo volumes have continued to decrease through the year, narrowing to their lowest level as of July. This indicates that the market is showing signs of bottoming out, though analysts say that strengthening demand shows reason to be cautiously optimistic.
North America Vessel Dwell Times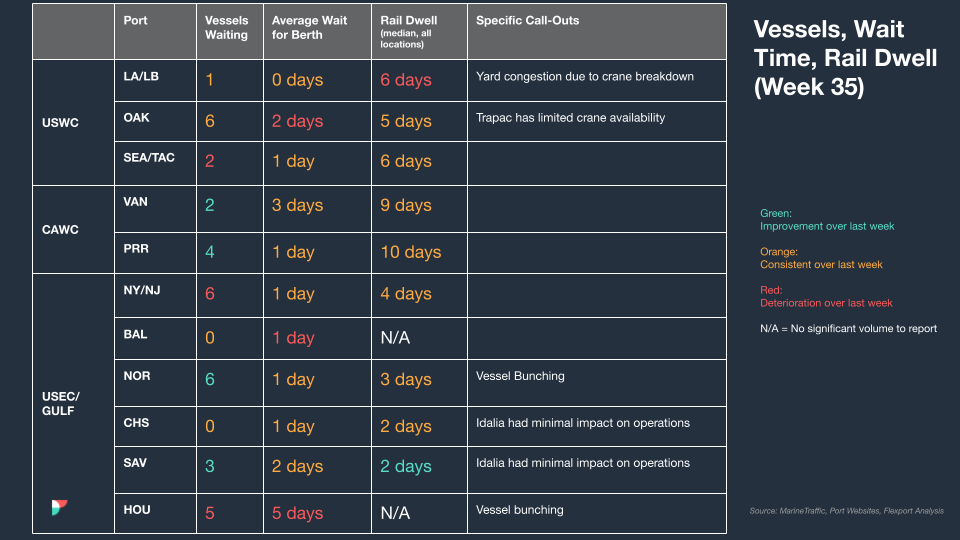 This Week In News
ILWU Ratifies 6-Year Contract
With a 75% majority, the International Longshore and Warehouse Union (ILWU) ratified a new 6-year contract with the Pacific Maritime Association (PMA) this week. The contract will retroactively start on July 1, 2022 (when the previous contract expired) and extends through July 1, 2028. The ratification comes at the end of a 13-month process that included labor actions, fears of a strike that could have severely hampered the U.S. supply chain, and multiple rounds of negotiations between the two parties. The contract affects 22,000 dock workers at 29 ports up and down the U.S. West Coast.
Chatbots Are Trying to Figure Out Where Your Shipments Are
Since OpenAI launched ChatGPT in November of last year, more companies have started investigating ways to use Generative AI, the technology that powers this and other recently launched tools, in their customer service and other public-facing aspects of their business. Artificial intelligence has been making its way into the backend of the industry for several years already, but the ability of generative AI to quickly parse data and respond to humans in a human-like manner has companies looking at ways to lighten the workload on their external-facing employees as well.
Source from Flexport.com