Trends to Watch
[Ocean – FEWB] With soft demand and the expected impact of Golden Week, FAK rates continue to drop prior to the Golden Week holiday. Capacity cut for October is estimated to be 20-30%. On the Mediterranean trade demand has weakened and more blank sailings have been announced from all 3 alliances.
[Air – Global] Overall market demand for air freight capacity is on the increase — particularly from Asia to the U.S. and Europe. South East Asian countries such as Thailand, Vietnam, Singapore and Malaysia are most impacted with surging demand levels due to consumer electronics and semiconductor production. At the same time, China and Hong Kong are experiencing rising demand levels due to ecommerce activity and New Product Introduction (NPI). Because all of this volume routes through 3 primary export gateways in Asia—HKG, PVG, and TPE—capacity is impacted resulting in extended transit times and rising rate levels.
[U.S. Exports] US Export trades remain wide open with all carriers aggressively pursuing volume and pricing accordingly. Filling the backhaul remains a top priority and low rates reflect this aggressive push for market share accordingly.
[Ocean – ISC > U.S.] Ocean freight demand ex India has softened in September resulting in carriers dropping rates. Drop in demand is expecting to persist through the first half of October.
[Ocean – LATAM] Space remains open both northbound and southbound—and both to and from both coasts. Brazil exports: Vessel utilization at a very healthy level (~90-95%). We recommend placing bookings 4-5 weeks prior to CRD.

Wider Trends Worth Watching:
Some shippers are beginning to restock after selling through last year's overstocks, leading carriers to continue expecting a muted peak season using small gains around back-to-school and Halloween as guideposts.
Mexico is seen as a growing market due to the nearshoring trend continuing to expand. Yard capacity south of the border at Laredo continues to grow and more rail links are being established.
Shipping into the USWC is rebounding after uncertainty around labor actions and congestion in the first half of the year. Delays at the Panama Canal are a contributing factor, as are the lower rates compared to the U.S. Gulf Coast/USEC.
North America Vessel Dwell Times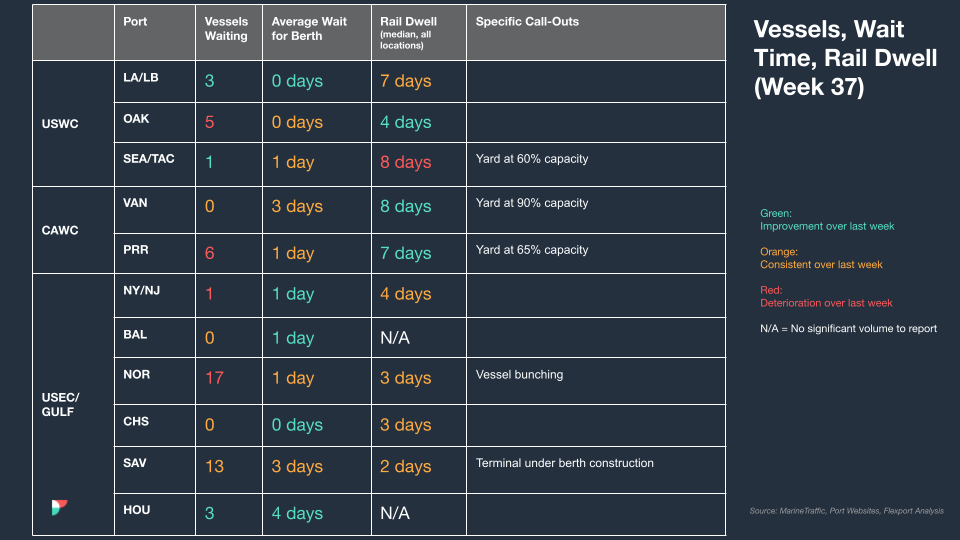 This Week In News
[VIDEO] How the Panama Canal's Drought Is Threatening Global Supply Chains
Ongoing drought conditions in the region have led the Panama Canal Authority to impose several layers of restrictions on vessels transiting this crucial sea route. This 10-minute explainer video does a good job of summarizing the situation while introducing additional context and background to ensure viewers are seeing the whole picture.
Port of Long Beach Sees Modest Start to Peak Shipping Season
According to the NRF, 2023 container imports to the U.S. will hit 22.3 million TEUs, down ~12.5% from last year yet up from the 22 million seen in pre-pandemic 2019. Numbers at the Port of Long Beach as we enter peak season seem to support that prediction, seeing 682,312 TEUs last month, a decrease of 15.4% from August 2022, but an increase of 18% over July.
Source from Flexport.com