Trends to Watch
[Ocean – TAWB] Some carriers have announced withdrawal of capacity ex North Europe to US East Coast as the demand hasn't picked up enough to justify the additional capacity—leading to the expectation that rates will bounce back from the beginning of November. Some additional capacity might enter the Mediterranean to Canada market, Ocean Alliance should announce this soon.
[Ocean – LATAM SB] Exports overall are down 20% since the same time last year. Since the beginning of the year, MSC has been losing market share and as a result they have proactively decreased Q4 rates to West Coast South America in an attempt to regain market share. Although they have decreased rates, they are still above other ocean carriers in the market.
[Ocean – LATAM > Canada] Crowley (niche LATAM carrier) recently announced the launch of a new service in partnership with CN rail that connects Mexico and Canada with a weekly ocean/rail combination between the port of Tuxpan, MX and Mobile, AL with a 2.5 day TT. This service is starting Nov 7 and they will offer dry and reefer services. This is targeting businesses that traditionally relied on FTL services connecting MX-Canada (west coast) and/or slower ocean transits connecting MX Gulf to Canada EC.
[Ocean – U.S. exports] TAEB: Rates are rising out of Houston to north Europe base ports related to increased cargo routing through Houston via rail.
[Ocean Ports – USEC] Hurricane Lee is moving up the US East Coast and approaching Canada. Expect vessel arrival days as the storm passes each port. The Port of Halifax, Canada, is closely monitoring the storm. Vessel delays to the port are highly likely.
[Ocean – TPEB] September capacity overall at ~85%, a 5% increase from August and the 2nd highest month for total capacity this year. No further drop in capacity for September is expected. Vessel plans will remain in lead up to Golden Week (1 October) Golden Week closures expected to begin September 25/26, with most factories closed Sept 23 – Oct 8.
North America Vessel Dwell Times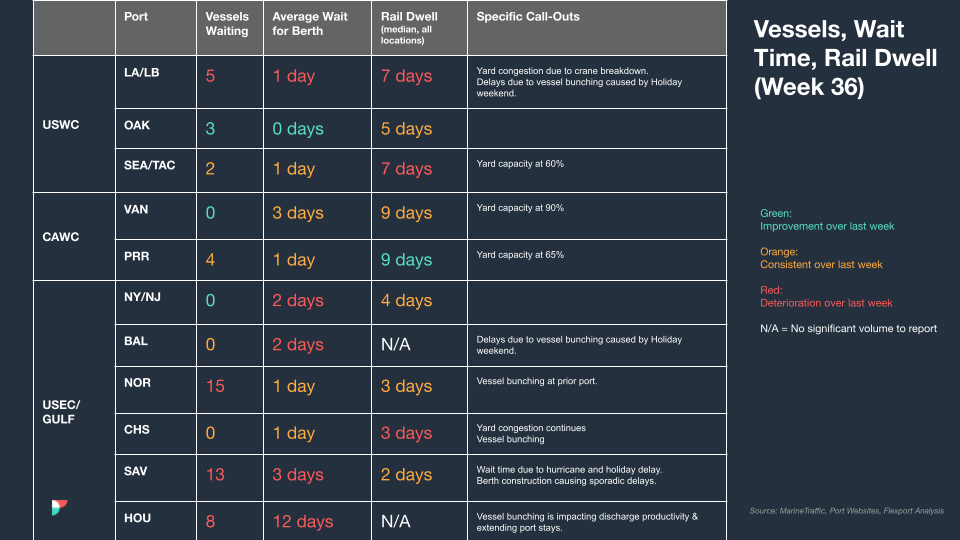 This Week In News
Flexport Launches a Revolution to Democratize Supply Chain for Entrepreneurs
This week, Flexport launched a supply chain revolution for entrepreneurs, the first truly all-in-one tool and end-to-end global trade solution powering instant access to financing, freight, fulfillment, and replenishment to all major marketplaces and retail stores. Those who want even more can join Flexport+, a membership program offering exclusive access to industry-leading supply chain financing, priority shipping services, and easy access to supply chain experts for heightened support.
NRF acquires Reverse Logistics Association
In a move to help its members establish and meet full-circle sustainability goals, The National Retail Federation (NRF) recently announced it had acquired the Reverse Logistics Association (RLA). With the continued growth in consumer demand for a true circular economy and visibility into what happens to goods after return, the NRF says they're now better positioned than ever to support their members in meeting these demands as well as assisting with the growing issue of returns fraud.
Source from Flexport.com