Trends to Watch
[Ocean – TPEB] Carriers continue to price in order to win volume in a market seeing soft demand and no material peak season—rates are expected to continue to fall. Reductions have slowed to the U.S. West Coast (USWC) while further reductions continue to be seen to the U.S. East Coast (USEC).
[Ocean – India] Floating Rates have stabilized through June. Slight increases, through carrier General Rate Increases (GRI), are expected for July. Fixed Rates signed at higher levels than FAK, but incoming GRIs may equalize the two.
[Ocean – LATAM] Capacity that opened up—due to softer demand and ocean carriers deploying new services or adding additional capacity to existing service rotations—put pressure on rates as supply exceeded demand. Expect this situation to remain beyond Q2.
[Trucking – U.S. Domestic] Contract compliance is at an all-time high, as evidenced by the historically low tender rejection rate of below 3%—an indicator of carriers' willingness to accept most contract freight.
[Trucking – U.S. Import/Export] U.S. wet ports remain largely fluid, with truck turn times under one hour at most ports. Rail ports are also largely fluid though some chassis shortages are being seen due to multiple train arrivals and above average street dwells.
North America Vessel Dwell Times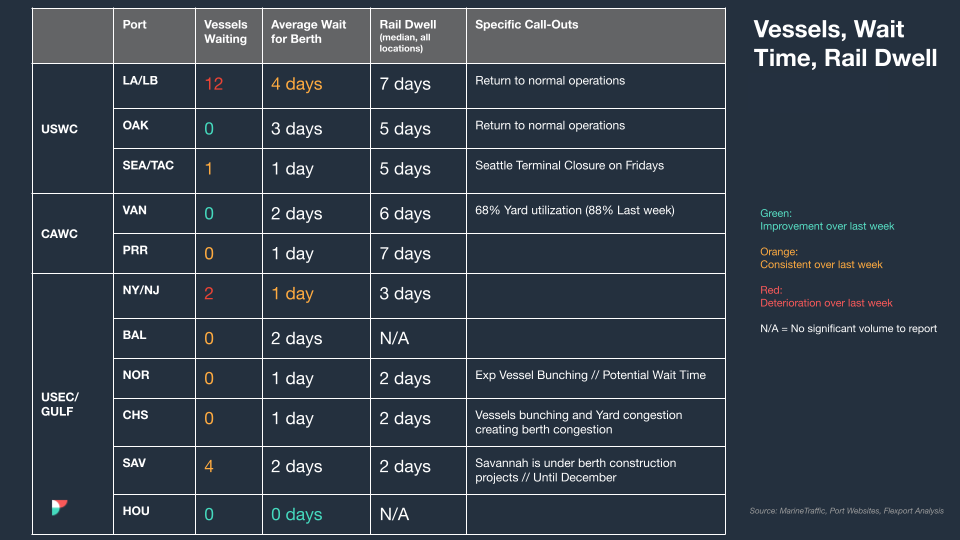 This Week In News
For ILWU, West Coast Port Deal To Be Union-Ratified, Here's What Has To Happen Next
Representatives of the International Longshore & Warehouse Union (ILWU) and Pacific Maritime Association (PMA), who represent port operators on the U.S. west coast, announced on Wednesday that a tentative agreement had been reached. The ILWU representative added that while this is excellent news and thanked interim labor secretary Julie Su for stepping in to help steer the negotiations across the line—the final process includes the full membership voting on the agreement—a process which may take several months.
Retailers Are Trying To Fix Their Supply-Chain Forecasts
In an ongoing effort to increase agility, flexibility, and resiliency in their supply chains—sparked by the volatility experienced during the pandemic—many retailers are increasing their technology spend. By improving the data and analytics behind their forecasts, these organizations are learning more about their customers overall, which is in turn further aiding in developing more accurate forecasts and helping them avoid stockouts and overstocks that plagued so many over the last few years.