Trends to Watch
[Regional – U.S. Gulf Coast] Hurricane IDALIA is causing disruptions in the Southeast. Flights from Tampa and Jacksonville are canceled today (August 30th) and the ports of Tampa, Jacksonville, Charleston, and Savannah are all closed. Expect ports to reopen 24-36 hours after storm passage, if it is safe to do so.
[Regional – East Asia] Super Typhoon Saola is currently centered north of Luzon. The storm will move northwest-westward through Luzon Strait through the 31st while maintaining its intensity as a super typhoon. While Saola is not currently expected to make landfall in Taiwan or Southeast China there will be significant weather impacts across the region.
[Trucking – Mexico] A nationwide strike has been averted for now as officials from the Mexican Alliance of Carrier Organizations (AMOTAC) have agreed to sit down with federal officials. The scheduled action would have ground trucking to a halt across Mexico, as well as impacting cross-border traffic into and out of the U.S.
[Rail – U.S.] Norfolk Southern has said that the impacts of a recent outage could last for several weeks, though no shutdown is expected. A spokesperson said there were no indications of a cyberattack, though the cause of Monday's outage is still under investigation.
[Ocean – Indian Subcontinent] Indications of a rate increase on the Indian to U.S. East Coast lane have been announced within the market. Space is largely available to the East Coast, while the West Coast remains tight as these services are shared with the Transpacific market and are seeing an uptick in demand.
North America Vessel Dwell Times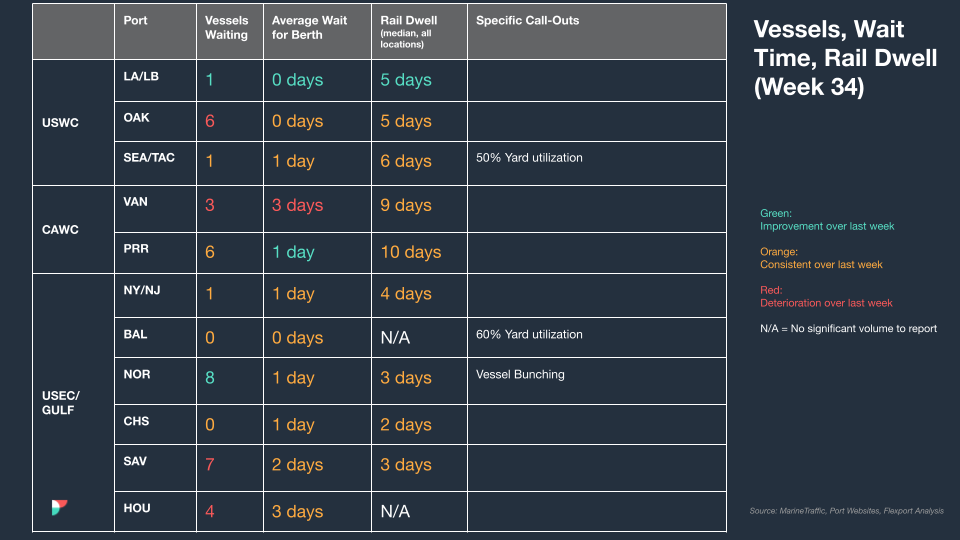 This Week In News
Wind-Powered Cargo Ship Sets Sail in a Move To Make Shipping Greener
In the race to uncover ways to lower the carbon footprint of the global shipping industry, a new project called Wind Wings stands to make an outsized impact. The project, a combined effort of UK-based BAR Technologies, Cargill, and the European Union, among others—retrofits steel and glass composite sails onto existing freighters. These high-tech versions of an old-school sail stand to cut fuel use by 1.5 metric tons per wing, per day on an average ocean route.
Panama Canal Delays Have Shippers Mulling Freight Diversions
The ongoing delays at the Panama Canal due to drought conditions in the region are causing some shippers to seek alternative routes to get their inventory to its destination. This may mean sending goods destined for the East Coast of the U.S. to ports on the West Coast then using roads and rail to finish the journey. Or it may mean sending containers on ships heading through the Suez Canal, despite the possibility of longer lead times and higher upfront costs.
Source from Flexport.com