Trends to Watch
[Intermodal – U.S.] Rainfall from Hurricane Hilary has caused the closure of the Union Pacific and BNSF mainline rail between Southern California and Texas. The railroads expect service to be restored by 8/25 but shippers should expect additional delays as rail operations return to normal.
[U.S. Exports – TPWB/TAEB] Overall demand remains soft, with carriers not eyeing a bounce back until late Q1'24. Rates continue to be aggressively priced by carriers in order to fill ships as capacity remains broadly available.
[Ocean – FEWB] Demand remains flat—high inflation, high inventories, rising energy costs, and geopolitical instability are still impacting the demand on the European side. Carriers are eyeing a potential GRI for sometime in September, and more blank sailings and sliding vessels have been announced for next month as well.
[Ocean – LATAM Southbound] Exports overall remain down and ocean carriers have continued to proactively reduce FAK rates in the hopes of attracting new business.
[Ocean – LATAM Northbound] Brazil's peak season usually kicks off in Q3 and although volumes are not at the same level as last year, vessel utilization has started to increase. As a result the three main ocean carriers (CMA, ZIM, MSC) have announced and/or implemented a GRI.
North America Vessel Dwell Times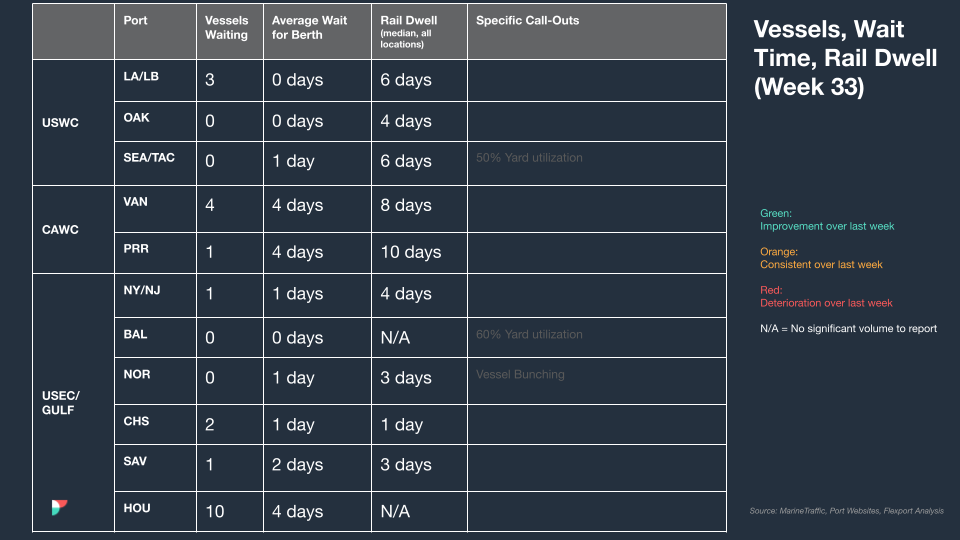 This Week In News
Panama Canal Extends Transit Restrictions Through Sept. 2
The Panama Canal Authority said last week that current restrictions on vessel draft and the number of vessels granted transit daily will remain in place until at least Sept. 2, 2023. Those restrictions are a maximum allowed draft of 44 feet, or 13.41 meters, and 32 vessels per day. Those passages are divided into categories, with 14 vessels with reservations per day in the original locks (only suitable for smaller cargo ships) and 10 in the newer, larger locks. The remaining eight spots are given to vessels without reservations.
What Was Once a Weed Could Fuel Jet Engines
Biomass fuels, or fuels created by processing plant matter, are a growing area of interest for those involved in addressing the carbon footprint of the global supply chain (like Flexport's Flexport.org division). And as interest in Sustainable Aviation Fuel (SAF) grows, several companies are hoping their non-food crop oilseed plants will be the first step to a carbon-neutral supply chain. These so-called 'cover crops' are grown during fallow seasons in the same fields as other food crops like soy or corn. That allows farmers to maintain their fields while generating additional income, and the result is a product that many hope will usher in that more sustainable supply chain.
Source from Flexport.com