Trends to Watch
[Ocean-TAWB] After dropping for several weeks, rates have stabilized below pre-pandemic numbers. Carriers will start trying to maintain healthy levels by managing capacity with possible blank sailings or slowing transit speeds in the coming weeks/months.
[Ocean-TPEB] Capacity is down from 648k TEU to 514k TEU, dropping but remaining close to the four week average of 525k.
[Ocean – ISC > U.S.] Indian Subcontinent: No GRI has been announced for the second half of August. There are some reductions on Sri Lanka (LK) and Bangladesh (BD) origins as well as North West India to USEC. Be aware that monsoon season and a heatwave in Bangladesh may cause some operational delays at origin.
[Intermodal – Canada] Canadian Pacific Kansas City (CPKC) announced the addition of 1,000 53-foot refrigerated containers to its intermodal network, more than doubling their existing fleet and bringing more options to customers using their Mexico Midwest Express (MMX) Series premium intermodal service.
[Ocean – LANB] From the East Coast of South America, vessel utilization remains healthy and picking up right in time for peak season, while from the west utilization is low due to the saturation in the market. ONE will also be injecting capacity into the USEC.
North America Vessel Dwell Times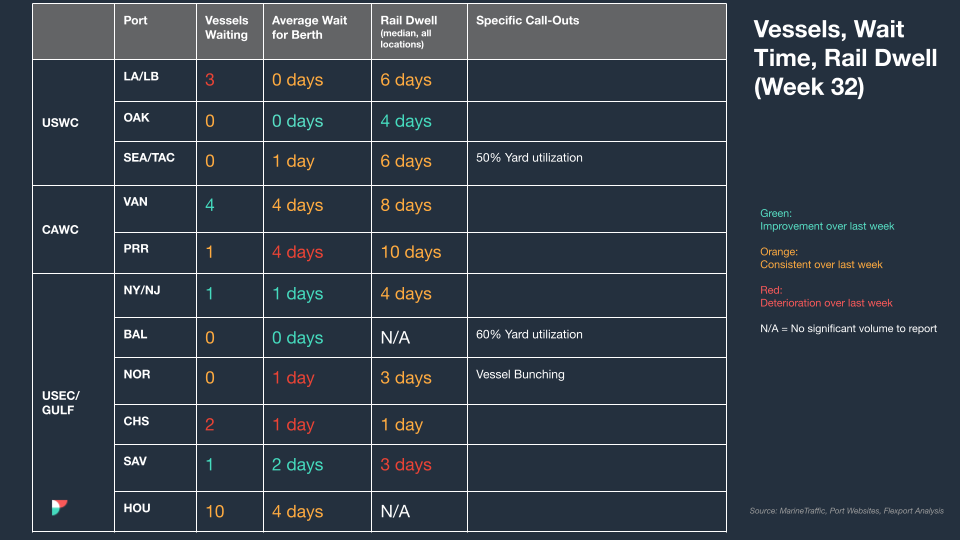 This Week In News
How Canada's West Coast Port Labor Negotiations Unfolded: A Timeline
After a bumpy process lasting five months, port workers in British Columbia have signed a tentative contract and operations are back to full speed ahead. In those months we've seen a 13-day strike, an illegal work stoppage, one voted-down proposed settlement, two tentative deals, and a federal intervention by the Canadian government. Now the focus has turned to rebuilding trust in a supply chain that has taken a financial beating during the uncertainties of the past months.
'This Is Going To Get Worse Before It Gets Better': Panama Canal Pileup Due to Drought Reaches 154 Vessels
Wait times to transit the Panama Canal currently sit at 21 days, with 154 vessels waiting for their turn. The backup is due to restrictions put in place by the Panama Canal Authority as a result of ongoing drought conditions that began last spring and are expected to continue for the foreseeable future. Some sectors have already begun rerouting through the Atlantic Basin or shifting back to U.S. West Coast ports, after having shifted to the East Coast earlier in the year due to labor issues.
Source from Felxport.com