US containerized imports are expected to build toward an August peak and in November will likely record the first year-over-year increase since June 2022, a major retail group said Friday. And while that is cause for optimism, the National Retail Federation (NRF) noted that labor strike at Western Canadian ports and involving UPS and the Teamsters could still snarl US supply chains this summer.
"We were relieved that labor and management at West Coast ports reached a tentative agreement last month but that doesn't mean supply chain disruptions are over," Jonathan Gold, NRF's vice president for supply chain and customs policy, said in the group's monthly Global Port Tracker (GPT), compiled with Hackett Associates.
Gold said the ongoing longshore strike at the ports of Vancouver and Prince Rupert should not have a "major impact" in the US but could still affect some retailers who move merchandise through Western Canada. And a possible strike by the Teamsters against UPS could crimp the ability to move goods from US ports to stores, he said.
"We urge all parties in both negotiations to get back to the table and continue efforts to reach a final deal without engaging in disruptive activity," Gold said. "Seamless supply chains are critical for retailers as we head into the peak shipping season for the winter holidays."
Diminished prospects for recession
According to the GPT, the prospects for a recession in the second half of the year are dimming and imports should increase as consumer demand ticks up and retailers reduce the inventory overhang that has kept warehouses full over the past year.
Consumer demand is stable, and consumers have continued to spend while retailers and wholesalers have reduced their inventories, Ben Hackett, founder of Hackett Associates, said in the GPT.
US imports grew at record or near-record monthly levels in 2021 through the summer of 2022 before growth stopped abruptly in the fall of 2022. GPT is forecasting that monthly year-on-year declines in imports will diminish over the coming months, with imports showing positive growth in November, which would be the first such reading in 18 months.
Retailers forecast that July imports will show a year-on-year decline of 11%, with August down 10.1%, September 3.4% and October 1.8%. Expected imports of 1.88 million TEUs in November would be up 5.9% from November 2022.
The GPT surveys imports at 12 major US ports on the West, East and Gulf coasts. It does not include imports through Vancouver and Prince Rupert, but NRF noted Friday the Western Canadian ports handled over 185,000 TEUs in May, approximately 9% of combined US-Canadian containerized imports at the ports covered by the GPT.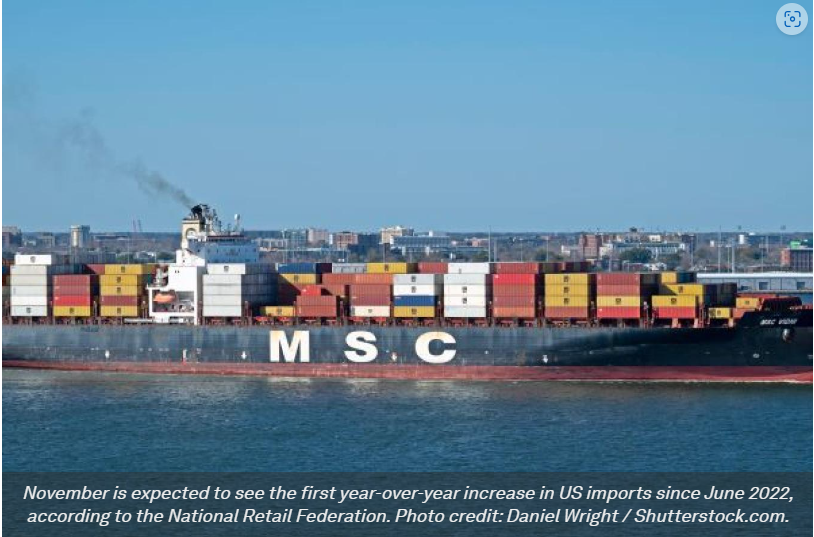 Source from JOC.com