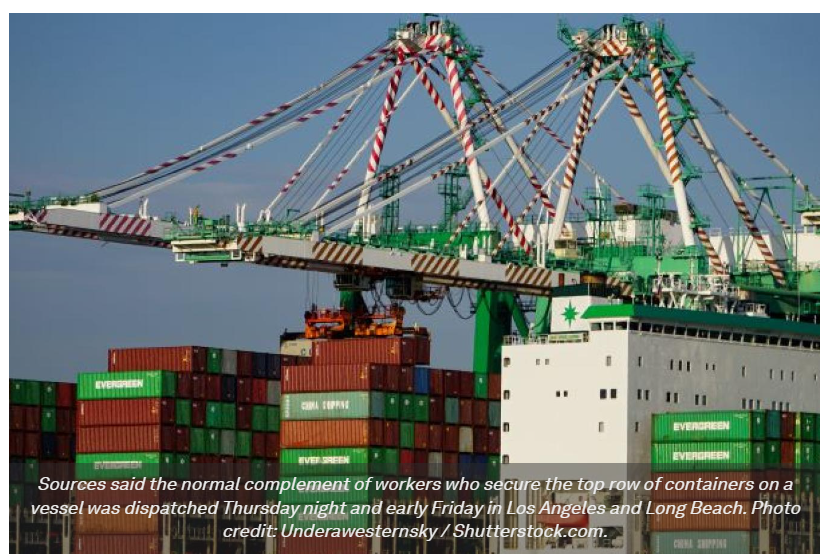 Bill Mongelluzzo, Senior Editor | Jun 9, 2023, 3:10 PM EDT
A vessel backlog that developed earlier this week at the ports of Los Angeles and Long Beach amid a lack of longshore labor was cleared Friday, a sign that progress was being made in coastwide contract negotiations between the International Longshore and Warehouse Union (ILWU) and maritime employers.
Talks between the ILWU and the Pacific Maritime Association (PMA), which represents ocean carriers and marine terminals, continued in San Francisco Friday for a third straight day. That in itself was another positive indicator, sources said, with negotiations hitting the 13-month mark this weekend.
Sources said the normal complement of workers – known as "lashers" — who secure the top row of containers on a vessel was dispatched Thursday night and early Friday in Los Angeles and Long Beach, allowing ships to be worked without disruption. The ILWU locals in Southern California refused to dispatch sufficient lashers earlier this week, causing delays that resulted in a backlog of vessels.
"It's good today," a source close to vessel operations in Los Angeles-Long Beach said Friday. "Our labor (orders) were filled last night and today."
Disruption continues in Seattle, Tacoma 
Kip Louttit, executive director of the Marine Exchange of Southern California, said the backlog of container ships that were forced to slow-steam or stop at anchor had cleared by the day shift on Friday. Four vessels scheduled to arrive by midday Friday would most likely go directly to berth, Louttit said.
Cargo handling in Oakland, meanwhile, was normal for a second straight day.
"The Port of Oakland's marine terminals are open and operating normally (Friday)," a spokesperson for the port said in a statement to the Journal of Commerce. "The number of vessels waiting for a berth in Oakland is five, which is about average."
Operations at Seattle and Tacoma, however, were "still bad" Friday, another source said, as job actions by dockworkers continued. Crane productivity at the Port of Seattle, which plunged to less than 10 percent of normal this week and was only slightly better in Tacoma, remained exceptionally poor on Friday.
The PMA said in a statement Friday that Seattle and Tacoma "continue to suffer significant slowdowns as a result of targeted ILWU work actions."
The ILWU declined comment.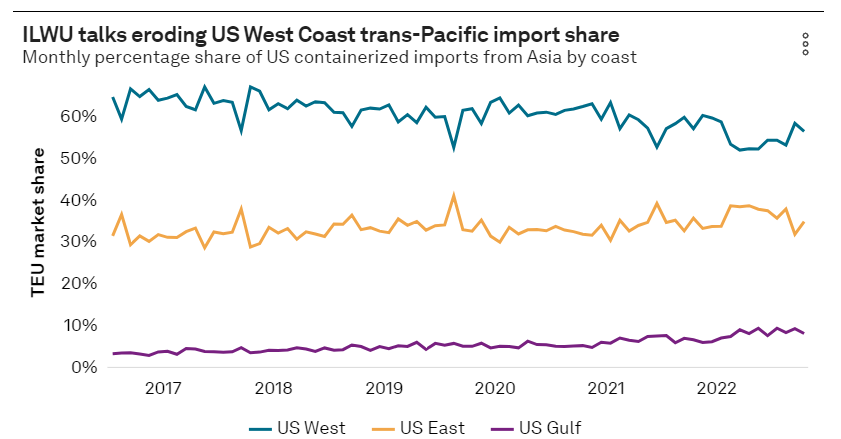 The fact that the ILWU and PMA held contract negotiations Friday for the third straight day is viewed by sources with knowledge of the talks as a positive sign. In recent weeks, the two sides had been meeting about once per week and were reportedly making little progress, which was demonstrated by the cargo-handling disruptions launched last week by ILWU locals that were intended to pressure the PMA into making concessions on wages.
The two sides have been far apart on the wage issue, with the ILWU reportedly demanding an almost 100% increase in the straight-time hourly wage, with the PMA's offer said to be in the low single-digits.
"Even though some port operations have improved, the ILWU's repeated disruptive work actions at strategic ports along the West Coast are increasingly causing companies to divert cargo to more customer-friendly and reliable locations along the Gulf and East Coasts," the PMA said in its statement. "It is difficult to win back cargo once it's diverted."
Source from JOC.com