Trends to Watch
[Regional Update – Europe] In Italy, space availability is good and ocean freight rate levels are stable. For air freight, capacity is increasing slightly with the summer season approaching and more flights being scheduled.
[Regional Update – Europe] In France, the strikes affecting operations at the port of Le Havre and Fos-sur-Mer have eased up and operations are running as usual.
[Regional Update – LATAM] For standard air services, booking to estimated time of departure (ETD) in Colombia, Peru, and Chile is 3-4 days; Argentina is 7-10 days. For Brazil the lead time from booking to uplift is 2 to 4 days for standard service on average, but will vary depending on the airline and route.
[Regional Update – LATAM] U.S. – Mexico cross-border: Please book shipments 5-7 days prior to cargo read date (CRD), occasional security problems at the Nuevo Laredo border could cause temporary shutdowns of the border crossing bridge and inclement weather is causing increases in transit times.
[Regional Update – Mainland China] Post-pandemic reopening is ongoing and is expected to continue through the rest of the year. Ocean capacity is widely available and air operations are running smoothly.
North America Vessel Dwell Times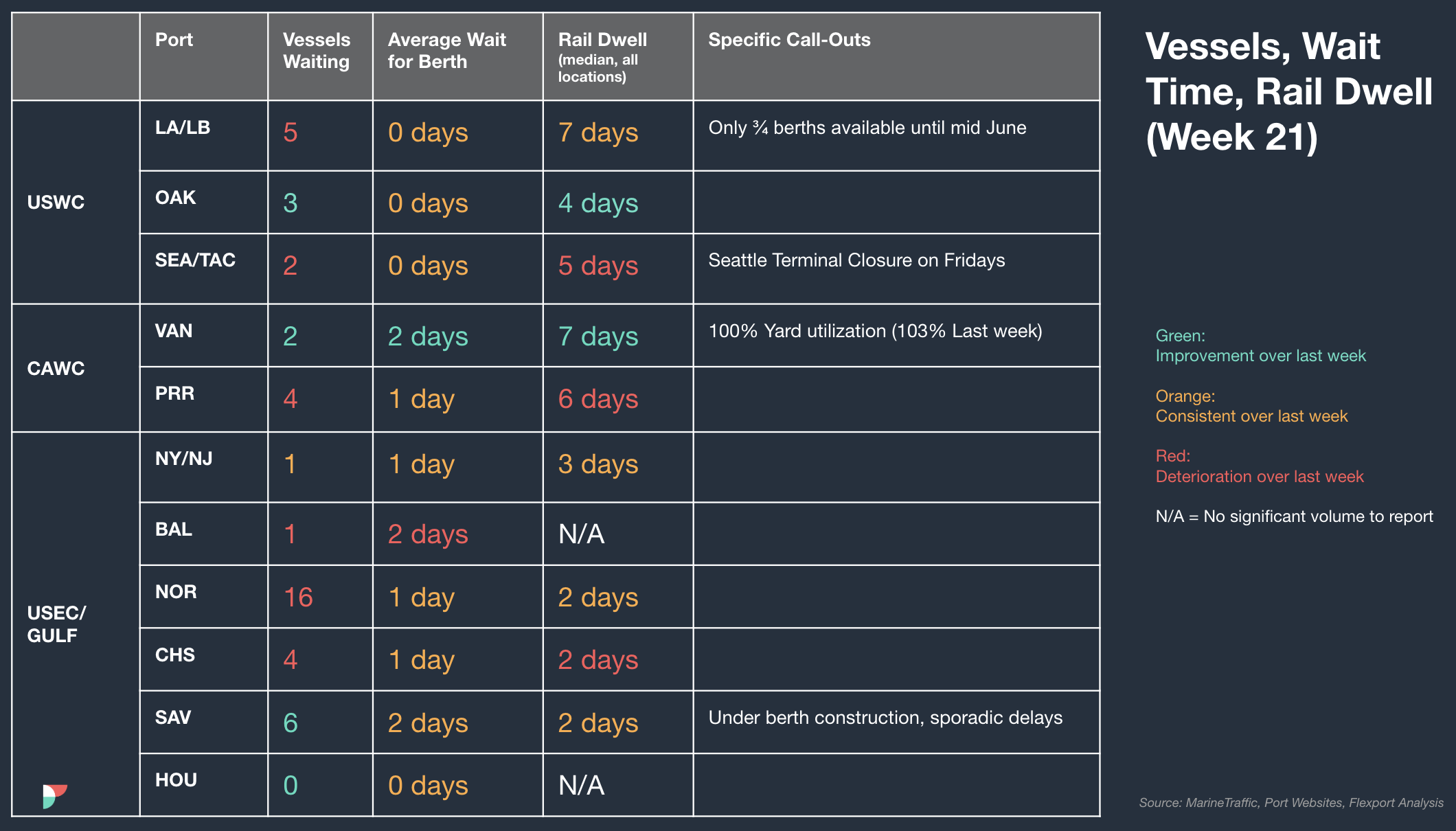 This Week In News
Nearshoring Trend Escalates for US Companies
Mexico has surpassed China as the U.S.'s top trading partner, with 16.1% of total trade. The trend of nearshoring, or moving overseas operations like production to a nearby country, is ramping up according to the UberFreight study cited here. Includes a nod to Flexport's recent piece on the rise of Laredo as the top port of entry for goods entering the U.S., as well as several quotes from our own Chief Economist, Phil Levy.
World's Largest Container Ship Arrives at Port of Antwerp-Bruges
The MSC Loreto set sail from Ningbo on April 19 and will make port at Felixstowe on May 28. This week it docked at the Port of Antwerp-Bruges, the largest ship to call at the port. Along with its twin the MSC Irina, the Loreto has a carrying capacity of 24,346 TEUs and measures 400 meters long by 61 meters broad.
Source from Flexport.com