Trends to Watch
[Ocean – TAWB] Overall space is available on both coasts as capacity has steadily increased and demand has remained below what was seen in 2021-2022. As more vessels and carriers have entered the market there is plenty of supply with shipping lines looking for extra cargo to fill the additional capacity. Expect the situation to last beyond Q2 2023.
[Ocean – LATAM] Volume for Intra-Americas trade lanes (LASB/LANB) has softened across the board due to multiple factors: inventory overstock, slack seasonality, high inflation rates in key countries like Brazil, Chile, Colombia, etc. and softer demand in general.
[Ocean – FEWB] Blank sailings and sliding vessels reduce weekly capacity from Asia in order to balance low demand. Spot rates on the trade have decreased, leaving a narrow margin between them and FAK rates.
[Air – Asia] Freighter capacity is being retired, specifically on Transpacific as they lose money at low sell rates and high fuel costs. This will continue if the rate and fuel costs do not improve. Demand is expected to pick back up driven by product launches and improved economy in Q3.
[Regional update – India] Air space is available and schedules are reliable for India/Sri Lanka/Bangladesh/Pakistan, ocean space is available and schedules are reliable, trucking is functioning normally, and equipment is widely available.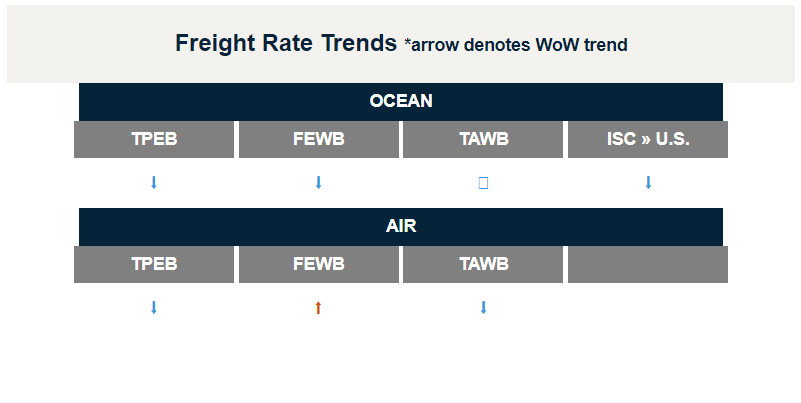 N. America Vessel Dwell Times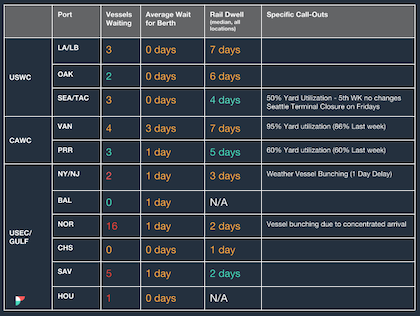 This Week In News
Trucking Could — Maybe — Become Less Volatile
Shippers, tired of the ongoing volatility in the trucking industry over the last few years, are starting to push back. They're getting aggressive, but not by going with the lowest bidder as many might expect. Rather, they're going for service-level metrics like "on-time, in-full." Drawing on their own Sonar data, Freightwaves looks at how this, combined with a move to a more constant, year-round request for proposal (RFP) season is shifting the trucking tide in shipper's favor.
Flexport Makes the CNBC Disruptor 50 List for the Third Year in a Row
For the past 11 years, CNBC has named 50 startups to its Disruptor 50 list. These companies are selected for their ambition and cutting-edge technology, sure, but they're also picked because they're chasing the biggest opportunities in their respective industries. For the third year in a row, Flexport is proud to be among them at number 10 after topping the list in 2022.
Source from Flexport.com