Trends to Watch
[Ocean – TPEB] Take advantage of currently soft conditions on the floating market (low rates, open space, across the board). Consider leveraging premium services as they have returned to excellent transit time performance.
[Ocean – FEWB] On the Far East Westbound lane, demand remains flat pre-Labour Holiday—booking intake slightly increased and further dropped again. High inflation, high inventories, energy costs, and geopolitical instability are still impacting the demand at the European end. Spot rates are also decreasing.
[Air – Transatlantic] The market continues to soften in both directions with demand continuing to decline. A large amount of capacity will be added for the summer schedule by US and Europe airlines, and volumes and rates are both expected to rebound in Q3 with demand picking back up, driven by product launches and improving economic conditions.
[Air] Passenger capacity continues to recover with significant increase expected in the summer from Europe, North America and Asia. The added belly capacity will likely impact rates in Q3.
[Trucking – U.S. Domestic] The FreightWaves SONAR Outbound Tender Volume Index (OTVI), which measures contract tender volumes across all modes, was down 25% year-over-year (3.3% month-over-month), or 9.6% when measuring accepted volumes after the significant decline in tender rejection rates.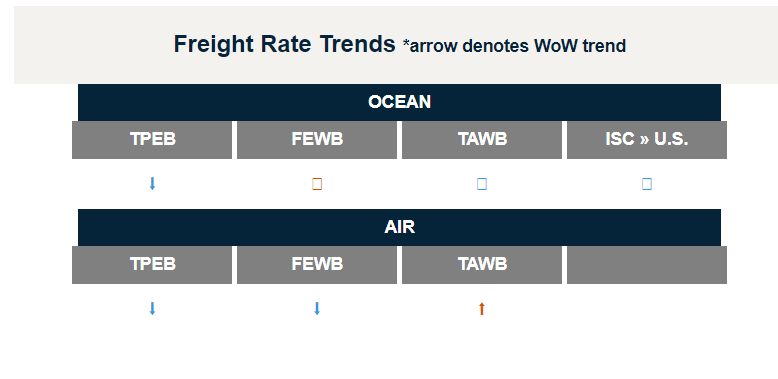 Sourse from Flexport.com