Trends to Watch
[Ocean – TAWB] Rates continue to decline as demand remains low and capacity open. Expect this trend to continue beyond Q2'23. This situation means that equipment is widely available in all major European ports—congestion has decreased in both US and Europe, speeding the turnaround of containers and leading to wider equipment availability.
[Ocean – LANB/LASB] Intra-Americas Trade Lane volumes have softened due to several factors, including ongoing inventory overstock, slack seasonality, and high inflation rates in key countries like Brazil, Chile, and Colombia. A rebound is expected but likely not to the level seen over the past few years.
[Ocean – FEWB] Booking intake remains flat but the overall trend is picking up, albeit slowly. High inflation, inventories, and energy costs combined with geopolitical instability are still impacting demand on the European side.
[Air – Asia] An increase in passenger capacity for the summer schedule is keeping overall capacity (freighter + passenger) relatively stable, along with average rates. The spot market is increasing as carriers and forwarders are less desperate to fill their empty space.
[Trucking – U.S. Domestic] The Outbound Tender Reject Index (OTRI) remains at a record low—consistent with the lows seen during the early COVID-19 lockdowns—indicating sufficient capacity to meet demand and that carriers are prioritizing contract freight.
North America Vessel Dwell Times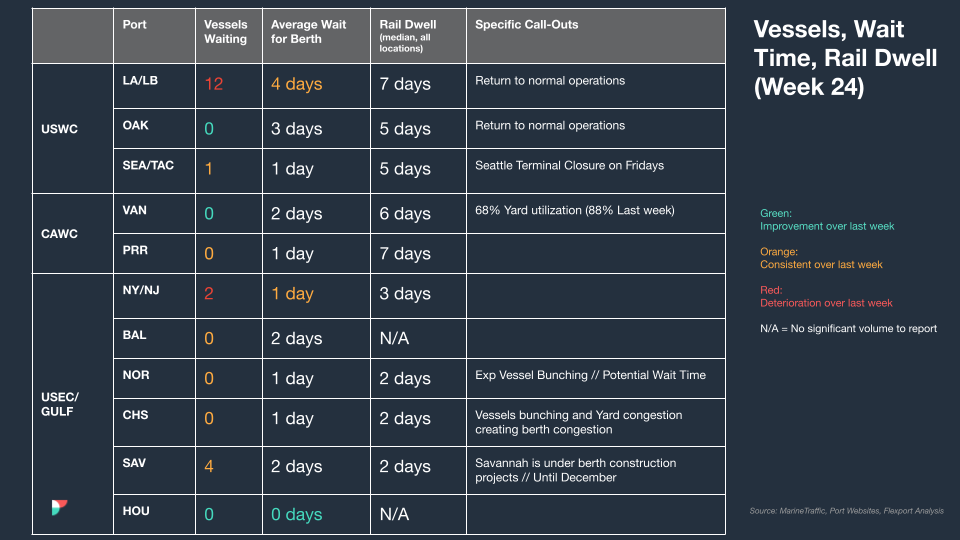 This Week In News
US Unveils New Shipping Bills To Clean Up Pollution and Emissions
Senators recently introduced two new bills before the U.S. Congress. The first, the International Maritime Pollution Accountability Act, aims to clean the air around port communities and would impose a pollution fee on unloading vessels. The Clean Shipping Act of 2023 would set baselines for acceptable levels for greenhouse gas (GHG) emissions, then requiring them to be cut by 45% by 2030.
Unsnarled Supply Chains Appear To Help Ease Goods Inflation
Using updated data from the White House Council of Economic Advisors, this brief article dives into the supply chain forces involved in the current inflation situation. Drawing on the Federal Reserve Bank of New York's Global Supply Chain Pressure Index (GSPCI), among other sources, their conclusion is that American consumers can likely look forward to having some economic breathing room in the coming months. For another dive into the GSPCI, see Flexport Research's recent commentary piece, Are We There Yet? Tracking the Recovery in Global Supply Chains.
Source from FLEXPORT.com