Trends to Watch
[Regional – British Columbia] This week, members of the International Longshore and Warehouse Union (ILWU) Canada are anticipated to cast their votes on a tentative contract agreement after the terms of the deal have been approved by a union caucus. For the most up-to-date information on how this may affect your shipments, please reach out to your account representative.
[Regional – Panama Canal] Multiple carriers have announced a Panama Canal Surcharge to go into effect on Aug 1, 2023 in response to the ongoing draft limitations brought on by continuing drought conditions in the region.
[Regional – Turkey] The Turkish air freight market is fully operational, but the demand is very high especially to the U.S. Consider booking "PLUS" or "URGENT" services with short notice bookings in order to secure the space.
[Regional – Indian Subcontinent] Air capacity is available and schedules are reliable for India/Sri Lanka/Bangladesh/Pakistan. Ocean capacity is available and schedules are reliable as well. Trucking is running normally and in general equipment is widely available.
North America Vessel Dwell Times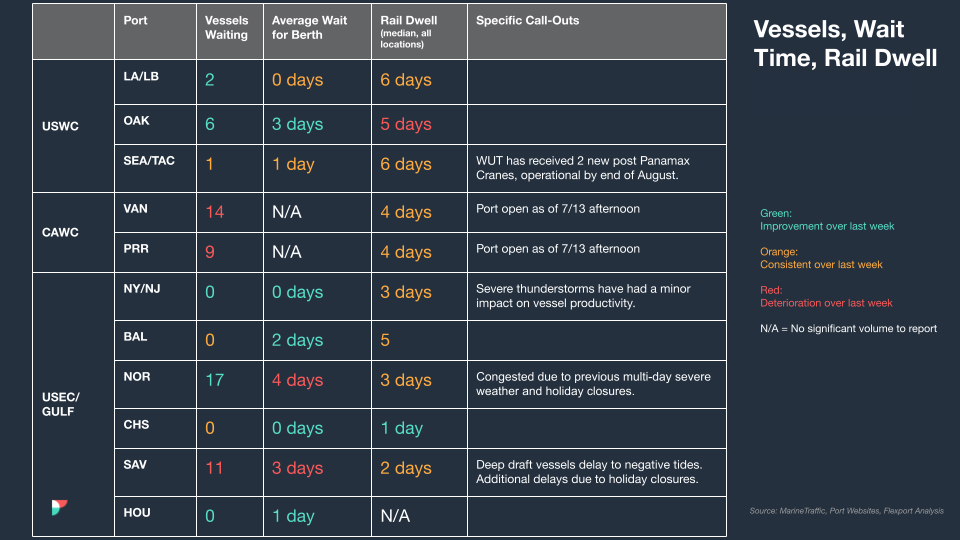 This Week In News
Older Freighters Starting To Leave the Market
The transpacific air market is seeing a reduction in capacity as older freighters are retired. Sanne Manders, President, Ocean and Air at Flexport attributes this to carriers looking to 'rightsize' their capacity to fit current demand. For a deeper dive on this topic, please see our recent State of Trade Webinar, Is Shipping Bottoming Out or Still Descending?
Never Mind the Delivery, More Online Consumers Are Turning To Store Pickup
Buy Online, Pick up In Store (BOPIS) is an order fulfillment model that continues to grow in popularity even after the re-opening of the retail world post-pandemic. Many retailers see it as a logical extension of their use of brick-and-mortar locations as mini fulfillment centers during the height of the pandemic, and they love it because it cuts fulfillment costs by eliminating last-mile delivery altogether. Meanwhile buyers love it because it's fast, convenient, and it saves them those same delivery fees.
Source from Flexport.com