Trends to Watch
[Ocean-All Lanes] Environmental regulation compliance resulting from IMO 2023 has led to vessels not returning to pre-Covid speeds, effectively removing ~8% capacity from the market.
[Ocean-TAWB] Recommend booking two or more weeks prior to Cargo Ready Date (CRD) to secure space and minimize CRD changes as much as possible. Alternatively, leverage premium products to guarantee equipment and loading for your most time sensitive cargo.
[Air-Correction] We previously reported that runway work was being conducted at Beijing Airport, which was incorrect. The maintenance work is happening at Shanghai Pudong Int'l Airport. Estimated impact (per Shanghai Airport): ~10% capacity on PVG-US, and ~25-30% capacity on PVG – EU, and work will be ongoing through June.
[Air-Asia > N. America] Carriers are NOT sharing significantly reduced fixed rates, in order to not engage their capacity at the lowest of the market. Expect rates to stay around the same level as at the end of March.
[Air-Transatlantic] Passenger traffic is beginning to pick up and flight frequencies will continue to increase on Trans-Atlantic routes. The summer schedule of major European and US airlines is already significantly higher from mid-April onwards.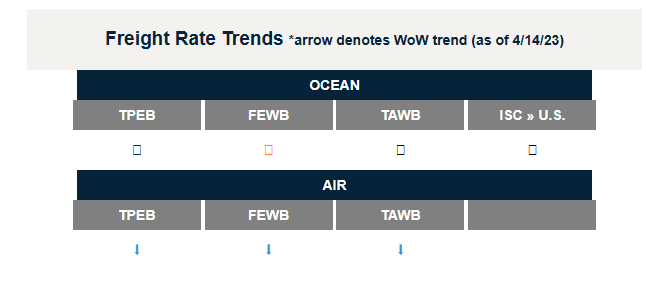 This Week In News
Why Air Cargo Must Continue To Experiment, Embrace New Tools, Tech
According to the World Bank's recently released report, "Falling Long-Term Growth Prospects: Trends, Expectations, and Policies," global GDP growth will slow significantly in the coming years. For the freight forwarding and global shipping industry, the time may be perfect to invest in technology upgrades and improved data practices. Neel Jones Shah, Flexport's EVP of Air Strategy & Carrier Development, had this to say: "My advice for everyone working in supply chain right now is to take advantage of this time to plan for the future."
How the Pandemic's E-Commerce Boom Drove New Packaging Trends
Shifts in consumer shopping habits, environmental concerns, brand reputation, and direct-to-consumer models stemming from the early days of the COVID pandemic have all contributed to changes in how goods are shipped to buyers. Specifically, Ships-In-Own-Container (SIOC), in which  an item arrives in the original packaging without any additional box or packaging needed, has seen a major uptick in recent years.