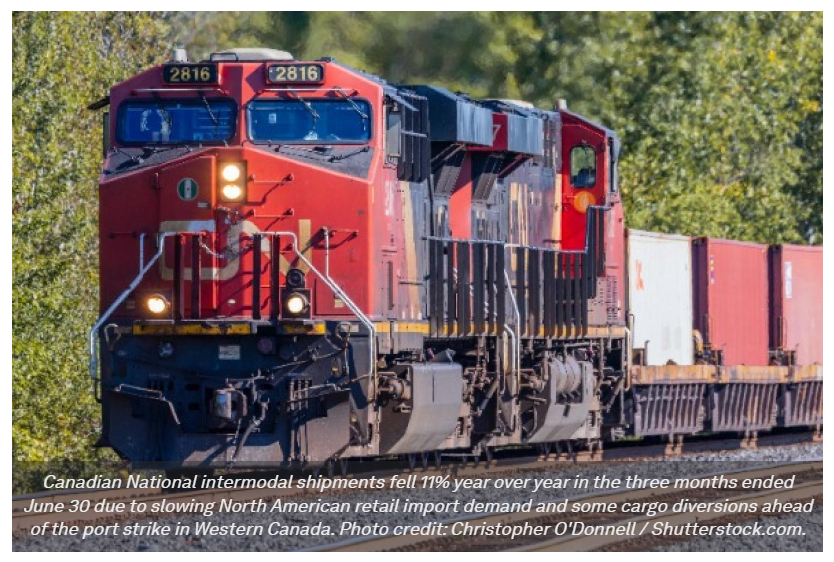 Canadian National Railway said it would take up to eight weeks to clear the cargo backlog from the 14 days of strike action at Western Canadian ports amid a weaker-than-expected peak season, while signaling some confidence that the longshore disruption is over as union members vote on the tentative deal reached last week.
"We are pleased to see an end to the work stoppage and we're working hard to get those supply chains back in sync," CN CEO Tracy Robinson said Tuesday during a second-quarter earnings call. "We expect to move most of the volumes that didn't move during the first two weeks of July over the coming weeks."
The result of the ratification vote by the rank and file of the International Longshore and Warehouse Union (ILWU) Canada isn't expected to be released until Saturday at the earliest, according to two people close to negotiations. The last three weeks have been marked by the whiplash of a 13-day strike, a tentative deal rejected by a union caucus, a one-day wildcat strike, a federal labor board ruling the one-day strike illegal, the union issuing and then retracting a strike notice for last weekend, and finally union leadership accepting terms of the new contract.
Those terms have not been publicly disclosed.
Beyond the strike impact, Doug MacDonald, chief marketing officer at CN, said on the call the environment for intermodal volumes, both domestic and international, will stay challenging. Pricing for domestic rail through the shipment of 53-foot containers on short-haul lanes "will be under pressure" due to increased truck availability, he added.
MacDonald was the latest transportation executive in recent weeks to downplay the possibility of any meaningful peak season, saying the railroad downgraded its outlook for intermodal volume growth due to shippers saying they're expecting a weaker-than-expected second half. CN shipments via international containers and 53-foot containers fell 11% year over year in the three months ended June 30, pulling down intermodal revenue 26% to C$983 million (US$743,600).
"We're not really sure what's going to happen in [the 2024 first quarter] and beyond," MacDonald said, answering an investor question on whether there would be a volume rebound early next year. "But what we are doing is we're kind of forecasting a normal year beyond that, and that's as far as we've gone based on what the customers have told us."
The timing and health of an intermodal volume rebound on CN's network hinges on the North American consumer, Robinson said during the earnings call, during which the Class I railroad reported net income of C$1.17 billion for the second quarter, down 12% from the same period in 2022. While CN doesn't expect a significant restocking of retail inventories ahead of the winter holidays, Robinson said "we are expecting to see some strength start to grow and return to more normalized level, say next year."
Similar to CN, forwarder Kuehne + Nagel downplayed the chances of a traditional peak season for ocean markets, with CEO Stefan Paul telling investors Tuesday that at best "there will be a slight uptick in the fourth quarter." Last week, Matson Navigation CEO Matt Cox said he sees a "muted peak season" for the trans-Pacific, according to the company's preliminary earnings statement.
Source from JOC.com