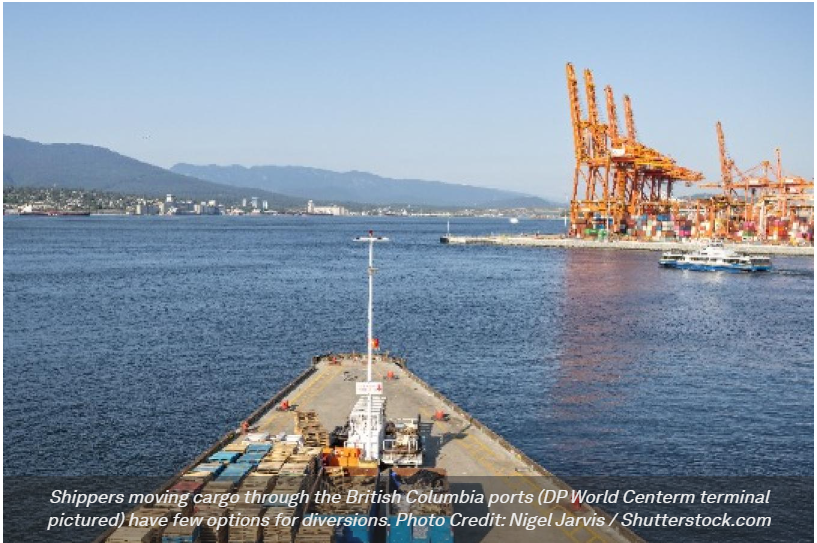 The container shipping industry in Western Canada is bracing for the possibility of an extended strike at the ports of Prince Rupert and Vancouver after longshore workers went on strike Saturday morning as threatened over a contract dispute.
The ports are adjusting operations to mitigate cargo buildup as both sides remain far apart on how to best fill existing heavy-duty maintenance jobs and whether the union's remit should expand to other types of maintenance jobs at facilities, according to two sources close to the matter.
The Canada affiliate of the International Longshore and Warehouse Union and waterfront employers also face a wide divide on what they'll accept in salary increases, paralleling the major stumbling block US West Coast employers and longshore labor finally overcame in announcing a tentative deal on June 15 after more than a year of negotiations.
Canadian shippers moving cargo through the British Columbia ports have few options for diversions. The US West Coast longshore union on Thursday signaled its solidarity in a letter to its Canadian counterpart. The International Longshoremen's Association, which handles cargo on the US and East Coasts, went a step farther, pledging Wednesday to not handle any diverted cargo from Vancouver and Prince Rupert. Through connecting rail networks, US importers and exporters also ship goods through the British Columbia ports and have more alternative routing options.
After ILWU Canada workers began a strike at 8 a.m. Pacific time on Saturday, the Vancouver Fraser Port Authority said to mitigate backlogs it was adjusting how it directs and manages anchorage. For example, vessel anchorages in the inner harbor, where DP Centerm and GCT Vanterm operate, are now limited to 48 hours. Average rail dwell times at Vancouver marine terminals were under five days, according to port authority metrics, reflecting generally fluid cargo flow before containers stopped moving Saturday morning.
Late night bargaining sessions on Thursday and through Friday night between the Canada ILWU and employers, with from the assistance Federal Mediation and Conciliation Service, failed to produce a contract agreement to replace the one that expired at the end of March. The ILWU filed a 72-hour strike notice with the federal government on Wednesday.
Canadian West Coast employers locked out the ILWU for less than 24 hours in May 2019 after an impasse in contract negotiations. Semi-automation, centered on the then new rail project at GCT Deltaport, frustrated negotiations, and now color current talks due to the prospect of some level of automation at a planned C$3 billion (US$ 2.2 billion) Vancouver terminal, Robert Bank Terminal 2.
Federal Labor Minister Seamus O'Regan on Saturday tweeted that mediators were still at the table, adding that the Trudeau government "cannot emphasize this enough — the best deals for both parties are reached at the table."
All eyes on Ottawa 
The government took a similar approach in 2021 to Montreal port strikes, signaling support for both sides to work out their differences through negotiation and praising the merits of collective bargaining.  Parliament passed back-to-work legislation after four weeks of sporadic port disruption at Montreal, ending the strike and forcing an arbitrated contract.
With Parliament out of session and unable to potentially pass back-to-work legislation, the pressure is on the Trudeau government to use its political capital to force a deal between ILWU Canada and the British Columbia Maritime Employers Association. Prime Minister Justin Trudeau is generally viewed within the Canadian shipping industry as having acted too slowly — and weakly — when containerized supply chains were significantly disrupted over the last three years.
The stakes are high this time, given the size of Vancouver and Prince Rupert, the country's largest and third-largest ports by volume, respectively. Vancouver and Prince Rupert handle more than C$800 million (US $604 million) in trade daily, equating to a quarter of all of Canada's trade in goods, according to the BCMEA.
Canadian industry on Wednesday urged the government to act, though, it expressed its support for collective bargaining. Canada's supply chains are already fragile and the strike will ripple through agriculture to manufacturing industries, while consumer and businesses grapple with inflation, wrote Robin Guy, vice-president and deputy leader of government relations at the Canadian Chamber of Commerce and David van Hemmen is vice-president at the Greater Vancouver Board of Trade.
"We are seeing signs that goods destined for Canada are already being routed to other ports, adding costs and increasing the environmental footprint of trade, all to Canadians' detriment," the duo wrote in the Globe and Mail.
Source from JOC.com