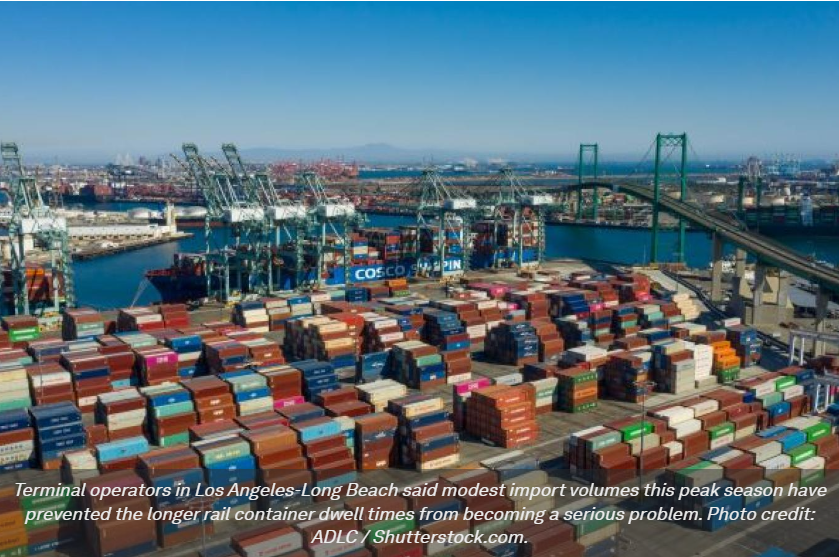 A shortage of rail cars is causing rail container dwells to rise at the ports of Los Angeles and Long Beach and in the Pacific Northwest, with operators unable to move inbound rail boxes off their marine terminals in a timely manner. While rail dwells have been slowly increasing since June, the problem worsened in September, sources say.
And a modest increase in pre-Golden Week import volumes last month contributed to the extended dwells, they said.
"We had some inventory buildup the last two to three weeks," Alan McCorkle, CEO of Yusen Terminals in Los Angeles, told the Journal of Commerce Thursday. "(The railroads) are not positioning enough bare tables here."
SSA Marine, which operates three terminals in Long Beach, said rail containers are dwelling longer on the docks because it doesn't have enough rail cars to move the inbound loads to the US interior.
"There is a rail car shortage," Ed DeNike, president of SSA Containers, told the Journal of Commerce. 
Despite the rising dwells, the congestion has not caused any disruption due to the manageable level of imports, even with the modest bump leading up to China's Oct. 1-7 Golden Week and especially compared to the record volumes and vessel queues during the height of the pandemic.
"We're not as busy, so there hasn't been a big impact," DeNike said.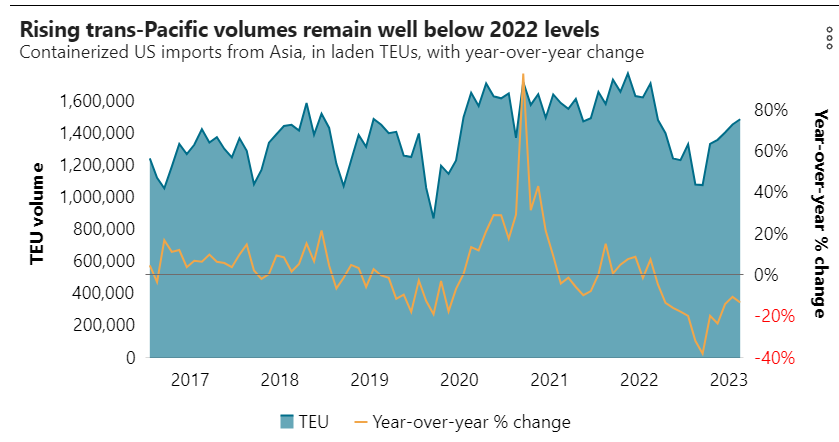 Noel Hacegaba, deputy executive director and COO at the Port of Long Beach, said the current peak season volumes are likely contributing to the discrepancy between modestly increasing import volumes and weak export volumes, which is causing an equipment imbalance.
"The uptick in inbound cargo could be triggering rail equipment imbalances," he said. "This is not across the board, but equipment balances are affecting some terminals more than others."
Conditions expected to improve soon 
BNSF Railway said it is responding to the problem and that conditions should improve quickly.
"We experienced an increase in freight in transit in the San Pedro Bay Ports and responded quickly by increasing our international intermodal equipment fleet by 8% to meet the demand and our customers' needs," the railway said in a statement. "We are well-positioned to handle the business across our network with the additional assets as well as with capacity."
Yusen is starting to see a difference this week. "It's starting to clear up a little," McCorkle said.
The Pacific Merchant Shipping Association (PMSA) has not yet released figures on September rail dwell times for Los Angeles-Long Beach. Dwells in August were 4.45 days, up from 4.14 days in July and 4 days in June. Just over 25% of the rail containers in August remained on terminal for five days or longer, up from 23% in June.
NWSA also seeing rail backups 
The shortage of rail cars is also an issue in the Pacific Northwest. "Rail car availability is currently a serious concern due to the low volume of cars heading westbound to balance the high volume going eastbound," Hapag-Lloyd said in a Sept. 29 customer advisory about the ports of Seattle and Tacoma.
The Northwest Seaport Alliance (NWSA) said in a statement to the Journal of Commerce that the two ports have seen an increase in container volumes over the past several weeks, and that it has caused "temporary congestion for intermodal cargo at some of our terminals." It said the railroads will be sending in extra cars to alleviate the backlog.
"Our operations team has been working closely with the Class I railroads and we're pleased that both have responded with additional support and are sending extra equipment," the NWSA said. "We expect the terminals to recover fully within a few weeks."
The delays appear to be highest at Tacoma-area terminals, according to the advisory, which said Husky Terminal is seeing import dwells of just over seven days due to the railcar imbalance. The neighboring Washington United Terminal is seeing delays of three to seven days, while Seattle's T18 terminal is experiencing one- to three-day dwells.
Union Pacific, which runs the Tacoma South Intermodal Terminal, did not respond to a request for comment.
While international import and export container volumes are down a combined 25.6% as of August on a year-to-date basis relative to 2022, a logistics manager who asked not to be identified said there had been some rush to bring in goods ahead of the Golden Week holiday. The source said her company's roughly 250,000 square feet of transload space is at capacity as shippers elect to move goods via dry-van trailer.
"Tacoma transloads are full," the source said. "Maybe it's issues at the Panama Canal, maybe people need to bring in time-sensitive goods right now."
The Pacific Northwest is about to see ocean carrier capacity drop further in the coming weeks, so shippers could be trying to get ahead of that. THE Alliance is suspending its PN3 service to Seattle-Tacoma indefinitely following the last sailing from Asia Oct. 8.
THE Alliance said the lack of demand was behind the need for the service cut. Along with THE Alliance, Ocean Alliance's OPNW-Dahlia service is running fortnightly through October.
But the logistics manager said the service cuts set up a vicious cycle where shippers decide to use other ports due to the lack of reliable and consistent ocean service. With the service cuts and schedule irregularity, the source said shippers are having problems returning empty containers. As fewer ships are able to take out empties, the manager said truckers sometimes face two- to four-hour turn times, including time in the queue outside the gates, and vessel cutoffs for exports have occasionally been missed.
"They need to fix the gates, fix the queues and extend some hours," the source said. "We need to bring consistency back to this gateway so it doesn't lose more cargo to other ports."
Source from JOC.com