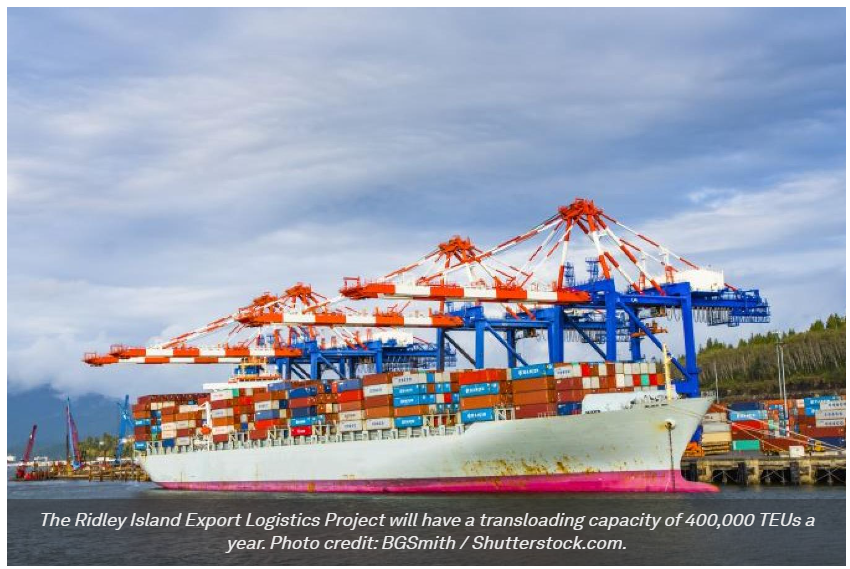 The Port of Prince Rupert said Thursday it has begun construction of a rail-to-container transloading facility that will significantly increase the Western Canadian port's capacity to export agricultural, forestry and resin products while achieving a better import-export mix.
The project will consist of a 108-acre greenfield development on Ridley Island and is scheduled for completion in the third quarter of 2026. Ray-Mont Logistics will develop and operate the facility, which will provide transloading capacity for 400,000 TEUs a year.
Ray-Mont currently operates a transloading facility on a temporary Ridley Island location.
The temporary facility will transition to the permanent Ridley Island Export Logistics Project (RIELP), which will provide significantly more transload capacity, said Brian Friesen, vice president of trade development at the Price Rupert Port Authority.
"It will be enormous in size and scale — 10 times the size of the temporary one," Friesen told the Journal of Commerce Thursday.
The C$750 million project will help import-heavy Prince Rupert establish a more balanced import-export flow, Friesen said. The import-export ratio has varied over time. Ten years ago, imports outnumbered exports two to one. In pre-pandemic 2019, exports accounted for 25 to 30% of the port's total container volume. This year, exports are in the low-30% range.
"So we still have a long way to go," Friesen said.
The project will include Prince Rupert developing a road-rail utility corridor that will connect the new transload facility with Fairview Container Terminal, giving unit trains 10,000 feet in length direct access to the site from the Canadian National Railway network. The connector corridor ensures that all product movements will be within the port authority's jurisdiction, the port said in a statement.
The total capital investment of C$750 million is being provided by the port, Ray-Mont Logistics, CN, the Canadian federal government and the government of British Columbia. Canada's National Transportation Corridor Fund is providing C$64.8 million and the province's Stronger BC program is providing C$25 million toward the project, according to the statement.
Prince Rupert serves Canadian, US markets
Prince Rupert, with its CN intermodal connections to eastern Canada and to the US market through Chicago, is a gateway for Asian imports. The port seeks to grow as an export gateway for Canadian and US cargo. A more robust two-way trade will generate increased container volumes and assist in the shipment of export loads and repositioning of empty containers along the CN network, Friesen said.
"The project's large scale, unit train capabilities, access to available empty containers and proximity and integration into container terminal operations make it a unique model that promises the ability to deliver significant new service offerings to exporters that will greatly improve the quality, cost and reliability of container supply chains," the port authority said.
Source from JOC.com